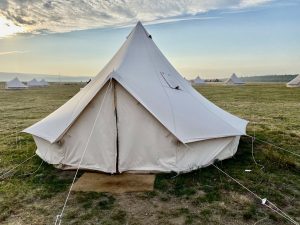 Ever been Glamping?! We decided to give it a whirl and I absolutely loved it! We stayed outside of Yellowstone National Park on an extremely cold night and we were oh so cozy in our plush bed inside our tent!  One of the perks to these glamping locations  are hot dogs over the first at night and hot showers to get rid of the smokey smell in the morning!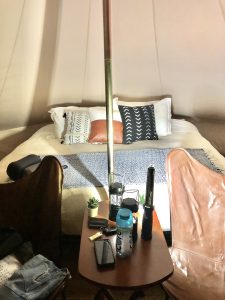 While not as luxurious as their counterparts on this list, you cannot discuss glamping without mentioning Under Canvas, a newer hospitality brand specializing in glamping experiences across the United States. With ten locations to choose from, guests can enjoy access to countless National Parks with a comfortable home base. Canvas tents are equipped with West Elm furniture, King-sized beds, wood-burning stoves, and optional en-suite bathrooms. All camps offer dining options, are pet-friendly, and are conveniently located near stunning National Parks. 
Awarded one of the 'Top 15 Resort Hotels in the West' by Travel + Leisure, and 'Top 25 Resorts in the US – Midwest & West' by Condé Nast Traveler, Under Canvas Moab lies just 7 miles north of Moab near Utah's famed Arches National Park and Canyonlands National Park. 
Also recognized by Condé Nast Traveler as 'Top 40 Resorts in the US – Midwest & West' is Under Canvas Zion, located on 196-acres of remote desert terrain and is just 20 miles from the entrance to Zion National Park. 
Under Canvas locations include the Grand Canyon, Mt. Rushmore, Acadia, Bryce Canyon, Lake Powell – Grand Staircase, Yellowstone, Glacier, Moab, Zion, and the Great Smoky Mountains. Most of the properties have been recognized by Travel + Leisure and/or Condé Nast Traveler, dominating each of their 'Top Resorts in the US – Midwest & West' categories.