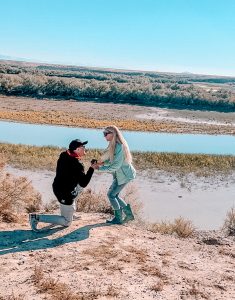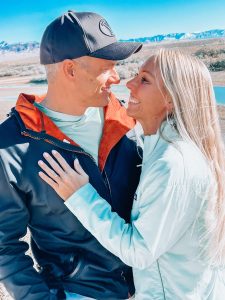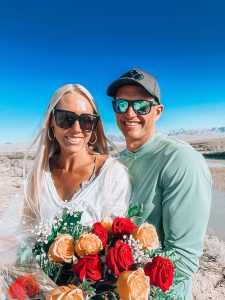 Since Shaun and I knew we were going to elope, getting "engaged" wasn't really going to be a surprise.  We also didn't have a lot of time.  I knew I wanted him to propose because I feel it's an important and traditional part of getting married and its a right of passage and  Shaun hit it out of the park when it came to proposing.
The first time Shaun ever held my hand was 24 years ago when we were on our way out to Delta to go water skiing in a small reservoir.  It's the only time I have ever been out that way and its such a cute memory whenever I drive south and pass that exit.  
A couple weeks before Shaun and I were to leave for our secret elopement, Shaun sent me a text message late at night with a riddle.  The riddle, if I solved it, would lead us to a special location.  I was so excited and never seen Shaun make so many rhyming texts before.  
The next day we met up and I knew exactly where we would be going.  We headed towards the reservoir by Delta and Shaun shared with me all the memories he had that day we first held hands. He even took us to the subway in town because that's where we ate lunch that day. I didn't remember the Subway, but once we were there the memories came flooding back.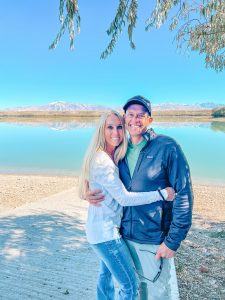 After lunch we headed to the lake and set out to find the spot we used to ski at. It was my job to find the location and I had no clue since I had only been there once.  So we walked along the shore line  and talked and enjoyed the gorgeous day. Everything was so familiar and I loved that this was a special place for both of us. 
After a few failed attempts to "find the treasure"  we went down a dirt road that over looked the reservoir right by the cliffs that I remember thinking were so unique and pretty 24 years ago.  As we went over to see the view, I looked down and saw the word "will you marry me"  dug in huge letters on the banks of the shore!
Even though I knew it was coming, it still caught me a little by surprise and I was so excited. Shaun got down on one knee and the deed was done! We were officially engaged!
Turns out those big letters I saw were Shauns 3rd attempt to get them visible. First he waded out to the sand bar and started digging there but the water made it so the letters would sink into the mud. Next he dug out the entire thing and when he hiked up to see his work of art, a tree blocked the entire thing.  So he had to re-dig every thing for a third time.  And I'm not going to lie, I secretly love that he put in so much effort! The more effort put in, the more rewarding it was for him to see my excitement and I love that he took the time to make this so special.
Recently, a guy called and asked me on ideas for his own proposal.  So I told him that it doesn't really matter how you do it,  and every woman is going to have her own preferences. But for me I told Shaun a few things I didn't want… I didn't want it to have anything to do with airplanes (he's a pilot and he showed me a proposal of a guy pretending to be crashing while the girl read from an emergency manual and asked her to be his co-pilot for life, Shaun loved that and I hated it so I nixed the plane scenario)  I also said I didn't want it to be in public, at like a sporting event or a restaurant, I wanted it to be intimate and private just between us with no family around watching.Other then that, he could do anything he wanted but he had to propose or we weren't getting married.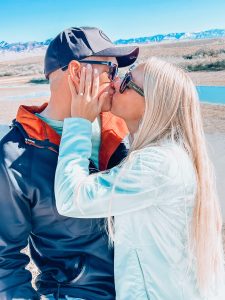 I love what Shaun did, it was perfect for us and I love that he made it in a location that meant something to him and now to me as well.  But I told my friend that you could do it anywhere, throw some twinkle lights in a tree and blanket on the grass with some sparkling cider, as long as there is thought to it and a little effort she is gonna love it!  But if I"m being honest the thing I love most is that it all came from Shaun and its a story he loves to tell because he is the one that came up with the idea, made it all his own, and put in the effort to make it special. WELL DONE SHAUN… knocked it out of the park… Love him so much!