May 19, 2022 I decided to end my almost 5 year relationship with my now husband Shaun.  This wasn't a bold or risky maneuver to try and change my man or get him to do what I wanted. I didn't break up with him in hopes he would see the error of his ways and we would get back together.  It definitely wasn't an ultimatum. It was an extremely well thought through break up that was challenging to execute yet was 100% what I felt like was absolutely right for me to do. 
I was done and it was time for me to move completely on. 
For years in our relationship, Shaun and I loved each other, but simply put, were not on the same page.  I wanted to get married and have kids, and he had been there, done that,  and he most definitely did not want to do it again.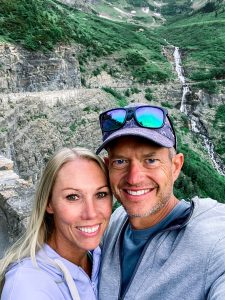 I'm not going to lie, it was hard to make a decision to let go of such a long relationship. Shaun and I worked really well together and we have known each other our whole lives and it always just felt like there was this "thing between us" one just can't explain. So leaving was super super confusing.  But ultimately my desire to get married and have kids was so strong and I wanted that more than anything, so I was willing to let that desire guide me and I was pretty much willing to do whatever it takes to have it, even if that meant leaving.  
After a couple years of knowing I was probably going to have to leave, I mentally and emotionally started preparing myself to do so, on May 19 I finally pulled the trigger.  Shaun and I were attending a wedding reception of all things,  for his boss's son.  While we were at this reception and I was listening to the families toast and welcome the new spouse to their families, there was just something that swept over me that gave me that last little bit of strength I needed to pull the trigger.  At that reception I saw exactly what I wanted, love, joy, union and the fun in being a part of a family, and the pure joy those parents had has they were beaming in pride when they talked about family.  And with where Shaun was at, I knew I would never have that if I didn't leave. 
So on the drive home, sitting in his car outside a park and ride, I dug up the courage to finally say it was time for us to finally let go.   We cried a little, but ultimately when I drove away, it felt  soooooo right and what I needed to be doing.  As I drove home I felt some kind of peace in my heart and slept for the first time in months.  I knew I was on the right path.
Now what!   Being as old as I was, 2 weeks from turning 42 years old,  the idea and thought of starting over was the absolute worst. But I wanted to get married and have my own family so bad I was pretty much willing to do whatever it  took.  
I have always been a  firm believer that I would never marry anyone that I hadn't known or been dating for at least a year. That just went against everything I believed in, plus I'm like a serial monogamist and known for having long term relationships.  Problem was that I'm old! So if we do that math, meeting someone, which isn't the easiest and then dating him long enough to feel like I know him and then to know its right…. was gonna take some time….. Time, that if I wanted to have more than one baby, just didn't seem to be on my side.  
I felt it was time to make a decision and call in some help from my higher power (for me that is my Heavenly Father, God) and it was time to MANIFEST THIS! I mean come on, I've been dating for 26 years!  Time to get this done!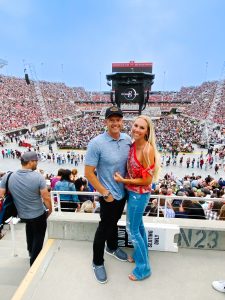 So, I decided "Ok, Heavenly Father, I want to get married in 6 months, and I'm basically willing to do whatever it takes and act a lot on faith here, so if you guide me and help me and give me a really secure way in which I will feel confident in doing so, I will get over my year timeline and we can get this done"   And I thought,  come hell or high water I'm getting married in 6 months!! And so together, we went to work.
I decided as a part of my manifesting I would be willing to do whatever it takes, like go on singles trips and dating apps, and  things that I normally wouldn't do or haven't done since I was in my 20's, or even early 30's for that matter!   Also, as crazy as this sounds, I decided if  I wanted to get married in 6 months (and I knew I most likely would be an elopement because I have always liked the idea of eloping to Tahiti) then I needed to find a wedding dress and be prepared for that. So, I did it….in early June,  I went dress shopping and ring shopping by myself, without telling a soul or even having a "boyfriend" at the time. I told the ladies at the dress shop I was eloping to Tahiti and just went with it…. 
I knew I wanted to get married in Bora Bora someday so I started looking at places to do that and saw a picture of a bride standing on the dock at the Four Seasons. I saved that picture and copied the website and thought… "there,….. if I'm going to get married…. I want to do it there!"
Now I am a firm believer that when you make a decision and take massive action, the universe will aid you in your cause and step in to help. And for me, this is exactly what happened.  I had a friend in 2017 start working with a well sought after dating coach.  I love working with coaches and figured I could use a dating coach, why not,  so in 2017 I got her number and I gave her a call.  But I never received a call back.  I was annoyed, but life went on and I didn't stress to much about it, I saved her number in my phone in case  and I thought maybe I could use her down the road.
Then, January in 2022, as I knew I was headed towards a break up, I decided to reach out to her again. We connected briefly, and she said she had a couple openings in March so to get in touch with her then and she'd keep me on her list.   But when March rolled around and I called once again, I got no response.  I left a message, no call back, I waited 2 weeks and emailed her. Nothing, no reply. Waited 2 more weeks and sent a nice text letting her know who I was and that I was ready if she had those openings….. Crickets! She never responded to any attempt to connect.  So, once again,  I wrote it off and figured I wouldn't worry about it.  
But as I said, when you take action, the universe takes action to help and as such, literally one week after I broke up with my boyfriend and I booked myself a spot on a Lake Powell singles trip, the dating coach sent me a text! Exactly 1 week after my break up and  2 days before I was to leave on my trip, she asked if  I was willing to meet with her the next day. I mean, come on…  if that's not a sign the universe or our higher power is helping us …then I don't know what is.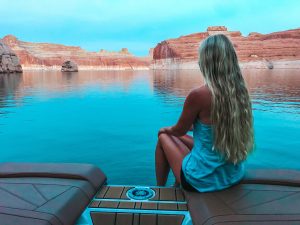 I won't go into all the details of what I learned from the dating coach, (that's for another day) but I will tell you it was a huge component to helping me get married. I would have never been able to do it without the things I learned from her.  In the 6 months we worked together, I was able to change some perceptions, learn some life altering relationship skills, and I was able to get a complete and accurate picture of what love, relationships, dating and marriage is all about.  
So as I started to work with my dating coach, and I started to go on dates and get to know a couple guys, Shaun decided to do a complete 180.  10 days after we broke up, and probably not so coincidentally with me going on a singles Lake Powell trip, Shaun decided to do some life and soul searching and figure out what he really wanted for himself and his future. Turns out, not only was it me and the life we had been creating together, but also he really did want to get married and have kids.  
He went from a solid no never gonna do it, to… "Hey, I'm gonna get married and have a family so you better figure out if you want to do that with me, because if not then I'm going to go find someone else who will do it with me again"  What the…. Yea… I mean … crazy crazy crazy turn around.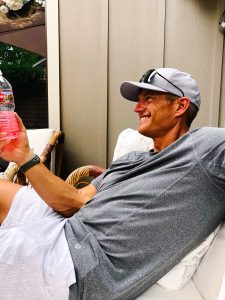 And I'm not going to go into all the details of all that happened or how everything came together, but what was really important was that Shaun had to have his own "come to Jesus moment" where when life gets tough, or real… one finds themselves on their own knees begging and pleading and finding their own way…. And Shaun, thanks to some pretty spectacular men in his life, and a few deep conversations that they shared, was able to figure out for himself what he wanted and what really mattered to him. 
But the truth of the matter is, I didn't trust it. I didn't want Shaun to change out of some kind of fear of loss or because he was having a hard time in the break up…  and I didn't really know if I could believe he felt the way he said he did.  
Plus, I was done. I didn't break up with him for a result, I broke up with him because I felt strong it was the right thing to do and was totally and completely done and wanting to move on in my life.
So, as the summer continued,  and as I was dating other guys, I decided I'd be open to seeing if what Shaun was saying was real and if the changes he said he was going to make, he was actually going to do so.  (spoiler alert, it was and he did!!) but  I still continued on my secret plan to get married in 6 months, which led me to making bold moves, like going on family trips with people I didn't know that well, and I ordered and bought myself a wedding dress and picked out a ring I liked. All the things….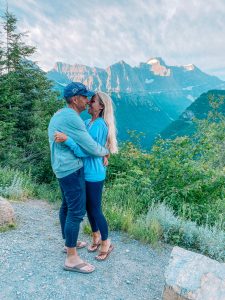 Luckily, as the summer progressed, so did Shaun and I. We found our way back to each other and came together in a new way, as equals and as partners who wanted the same thing. Because of that, we grew together, worked hard at resolving our previous issues and concerns and moved towards a common goal of getting married.  
One weekend while we were up in Montana, standing on the dock at the lake where we met when we were kids, the place we first started to fall for each other, I felt it…. That moment where I knew that this was for real and it felt as if  it had already been written for a very long time.  I knew we were going to be together and as sure as I was when I pulled the trigger on the break up, I was equally just as sure that this was my guy, the guy I was probably going to marry.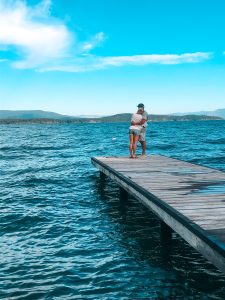 So 2 weeks later, I sent him that picture of the dock I wanted to be married at, overlooking Mount Otemanu and a text that said,  "If we're going to get married I want to do it here on this dock in Bora Bora." and  when he responded "looks perfect, where's it at?"  I knew that this was definitely the direction we were heading. 
Also, with him being so into it and no longer resisting things, I knew that he really could be the every thing I ever wanted. 
So, I took another leap of faith, set a date that sounded cool (11-11-22)  and booked our elopement, refundable of course, because I knew that this was what I wanted but I also was still a little hesitant, I mean after all, this was a total turn around from being super confident that breaking up was what I was supposed to be doing. I felt so much peace after the break up and knew it was right, so I knew I was going to need another total confirmation, one that I couldn't deny, that going in this new direction was also "right".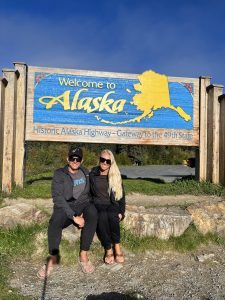 Which leads us to Alaska.  For years I have wanted to drive to Alaska on the AlCan Hwy.  When I was 24 I did a 30 day road trip around the US, living in my car with my then boyfriend. It was and still is one of my favorite trips I have ever taken. I love road trips and I love doing unique things and I kind of always had it in the back of my mind that I wanted to do another epic road trip with the person I was going to marry, before we got married. You learn so much about a person when you are living in a car with them for weeks and its fun and flexible and you get to see so many cool things together. 
Shaun has known for years I have wanted to do this trip and he never really seems to be interested in trying to make it happen. But this summer, I knew I could pretty much ask for whatever I wanted and he'd say yes, so I told him… this is the year, Alaska… I really feel like I need to do this trip, this summer and before we get married. 
In my mind, I felt like I needed one last big adventure as a single woman and Alaska was calling my name, loudly.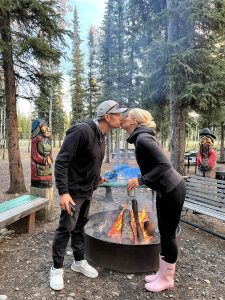 Again, he said "Sure lets do it!"   And he did!    He figured out a way to make it happen with his crazy work schedule.   And together, on the last day of August, we set out to drive from Utah to Alaska!  It was a trip of a lifetime. We drove 7200 miles. We saw, moose, foxes, baby black bears, hungry grizzly bears, bald eagles, tons of ocean wildlife, 6 National Parks (2 of Canadas) We had campfires, slept beneath Denali, peed many times on the side of the road, showered with sometime cold waters, slept in the back of our Denali SUV, drove through a herd of buffalo, swam in natural hot springs, saw reindeer, walked through the sign forest, found an ancient labyrinth and took 1000 pictures of some of the most remote and gorgeous country you'd ever hope to see. 
Honestly, it was an epic trip. But the amazing thing that happened was "the sign".  Shaun had to fly back early to go back to work, which left me the opportunity to drive 4 days alone down the AlCan from Alaska to Utah.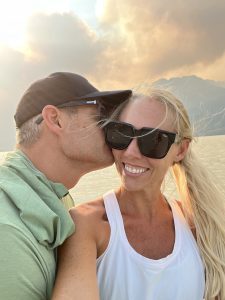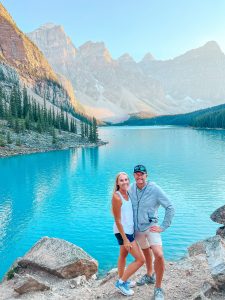 While driving, I heard on a podcast of a woman who had lost the love of her life in the middle of the night to a random medical anomaly.  And on this podcast she was sharing how she would ask for a sign that he was still watching over her. But it wasn't just some kind of sign like, hey let me know he is here…. she was really specific in asking for what she wanted to see.  And it was so touching and honestly such a cool experience for her to have and so I thought…. Hmmmm I need a sign to really know without a shadow of any doubt that Shaun and I should get married, and that this is right…. So… I decided to ask for a sign… an extremely crazy and specific sign…. 
And all I can say is…. ask and ye shall receive…..the very last moment of my drive on the Alaska hwy, I got my completed sign and answer.  And at this moment… to me this is to sacred to share.  But I knew that me and Shaun, that this was a good thing and moving forward was apart of the plan.
2 months later, Shaun and I stood on the dock  of the Four Seasons in Bora Bora, exactly how it looked in the picture, beneath Mount Otemanu, overlooking water bungalows and turquoise water, and on 11-11-22 we exchanged our vows.  Which not so coincidentally was 1 week before my 6 month deadline of when I said I wanted to get married.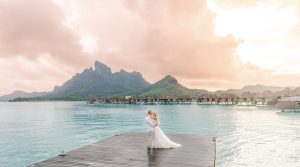 This was our wedding story and how I went from Ms to Mrs in 6 months. 
Manifesting was a huge part of my journey. Once I made a decision and took drastic actions on that decision, things started to move and shift and space was created to make it all possible. 
I did my part and was willing to do whatever it takes, I worked through hard things I  had the hard conversations, I ended and walked away from the comfortable things and tempting things, I was open to saying yes to things I'd normally say no to… which leads me to the whole point… 
I trusted my intuition… I trusted myself and those small promptings and crazy thoughts I was receiving…. I stopped listening to all the noise and started listening to the small and the quiet…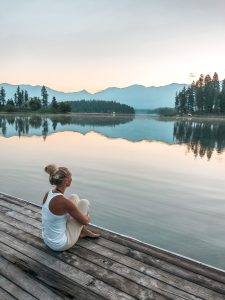 I invested in a dating coach and trust me this was an investment I didn't have the money to make.  I got a no interest credit card and charged it, knowing I could pay it off over the next year, and I'm so glad I did, as I learned skills and perspectives and a new paradigm I desperately needed to make in order to transition from single to married.  I could have never done it without her. 
I didn't try to change my now husband, I had to believe him when he said he didn't want the same things as me and I had to break up  with him in a way where I was totally done and could walk away and move on.  I didn't dump him to try and get results…. If I had it wouldn't of worked. It had to be authentic or there wouldn't not have been that space where things could evolve. 
Timing was and is, everything.
And in the end I got my own strong confirmation  that it was undeniably "right".
No one's story will be like yours… and I don't share this to tell you to do it like me, or am trying to give you any kind of advice…. I share it, simply for those looking for some hope. For those out there who may need it, who feel old, and unmarried or relentlessly discouraged,….for the ones that feel lost or hopeless….  the one thing I always clung to was hope. I continually told myself, the only way I won't get what I want, is if I give up and quit.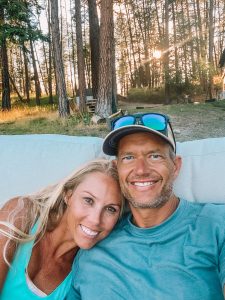 I love my story and I love my husband and in the short time we've been married I see more and more each week how he really is the most perfect complement and match I could have ever hoped to end up with.To be honest…. I didn't see that coming!! (haha)  but it is completely true and I love how it has all turned out!
And one of the things I'm the most grateful for is all the time I had before I got hitched.   I look back and realize how I needed it and had I not had it, things might not have been the same. What's that saying, something about the mountain views would not be spectacular without the depth of the rivers and valleys…. Something like that! 
And this is how I went from Ms to Mrs in 6 months!