All right ladies listen up! There are two things I swear by in this world when it comes to skin care. One is age-Loc which is a very important ingredient to have in your daily skin care routine. To learn more about age-Loc click here. And the second is the Lumi! I'm sure you've seen this circling around your social media and since I was one of the first people to ever use this little magical device, let me dive in and share all the deats about what it is and why you're gonna wanna grab it!
Why Cleanse?
Our skin deserves to be rewarded for all it does. It constantly produces natural oils which help it defend itself against environmental impurities. At times, these oils mix with leftover makeup and debris. This can cause blocked pores and later evolve into other skin related issue. A skincare routine that not only cleanses the skin but meets it specific need is vital for a radiant and youthful complexion.
What is the Lumi?
The  Lumispa is an all around skincare device. It offers a gentle and thorough cleanse when used together with an of the 5 activating cleanser and 3 silicone heads. The heads come in normal, gentle and firm and they create the 7 skin benefits the lumi provides.  It is the first-of-its-kind, dual-action skin care system that delivers dramatic skin renewal and deep- cleansing in a single treatment.
With its soft silicone treatment heads, the ageLOC LumiSpa moves at the precise frequency needed to promote skin renewal, revealing smoother, softer skin after just one use.
LumiSpa gently—yet deeply—cleanses away dirt, oil, makeup, pollutants, and toxins through its proprietary oscillating, pore-purifying action. It leaves skin smoother and purer, while reducing the appearance of pores. And the stimulating, massaging LumiSpa experience will leave you looking forward to your next treatment.
Experience brighter, softer, smoother skin and an energizing facial massage. Simply spend two minutes twice a day to enjoy healthier, youthful looking skin in as little as two weeks.
Made for your skin
It's important to take care of our skin, but it isn't always easy. Different skin types have different needs and creating a full routine can be confusing and time-consuming. That's why we created a complete skincare device that can help tackle your most common concerns with fantastic results – and without wasting your morning.
Get your Lumi
The Silicone Head and Activating Cleanser make great use of the device's unique dual-motion movement, but this isn't just what makes it so effective. Gently massaging these ingredients into the skin, it feels great too. Use it for just two minutes, twice per day, and turn every skincare routine into an at-home spa experience with visible, clinically-proven results that you're sure to love.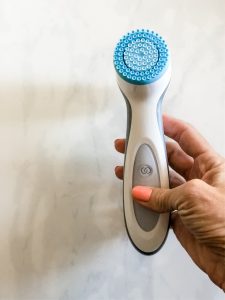 Pulsations
Get a deeper cleanse as LumiSpa Two-Sense Motion technology stimulates your skin through the precise frequency of its movement to reach into your pores to wash away dirt, oil, sweat, make-up residue, dead skin cells and more.
Softer Silicone Touchpoints
Notice the wave-like design? We've built it like this to work together with the ageLOC LumiSpa Activating Cleansers. This unique texture allows for precise contact with your skin, and makes the most of its dual-action motion, activating the anti-ageing ingredients with a gentle massage.
Powerful Anti-Ageing Benefits
The LumiSpa works with skin-specific ageLOC treatment cleansers that maximise your beauty benefits. You can choose from five cleansers designed for dry, normal/combo, oily, acne or sensitive skin—each formulated using Nu Skin's proprietary, ageLOC ingredient blend to target the sources of ageing and help you achieve healthy, youthful looking skin.
Better Than Bristles
It's softer, more hygienic and easier to clean than the bristle brush heads you'll often find on facial cleansing brushes.
37%
Smoother skin
after a single use*
62%
More radiance
after 12 weeks**
100%
Visibly cleaner skin
after 12 weeks**
77%
Saw reduced signs of
fatigue around their eyes
after 12 weeks***
My Own Skin Care Journey
Now I'm totally aware that skin care can be a personal journey for everyone. But must say that there have been frequent bouts where I've been lazy and just plain old tired and I hate washing my face at night.  After not using the lumi for a couple months and then seeing it in my shower I decided to get back on my skin care routine and let me just tell you that the difference in my pores and the smoothness of my skin was night and day difference! I absolutely notice a difference in my texture and my smoothness when I'm using it vs when I'm not!