The best antidote to the chaos (and excitement) of planning and executing a wedding is jetting off on a romantic honeymoon, just you and your significant other. What better way to wind down, celebrate your partnership, and decompress than by hopping on a plane and jetting off somewhere magical? 
From the black beaches of Santorini to the rolling vineyards of California's wine country, here are a few of the most romantic honeymoon ideas to extend your celebration of love. 
Santorini, Greece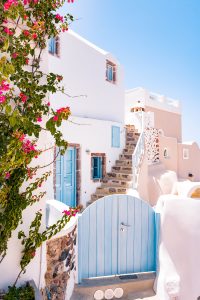 With picture-perfect views in every direction, Santorini is a Greek honeymoon must, and for good reason. Setting the stage for romance are countless boutique hotels perched on cliff walls, whitewashed buildings, and cerulean domed churches – all facing the sea. Splurge for a room with a plunge pool, overlooking the postcard views and mythical caldera below. 
Tip: Stay in Oia, located on the quieter side of the island. While there are still cruise groups and tours passing through, it offers a far more intimate feel than busy Fira.
Maui, Hawaii
Visitors to the Aloha State are greeted with a warm temperate climate, stunning vistas, and the lingering scent of plumeria in the air. It's no wonder it's a favorite among honeymooners, who gravitate to the luxurious Wailea, home to the island's finest resorts. From The Four Seasons and The Fairmont to The Grand Wailea and newly built Andaz, Wailea provides an upscale environment to unwind and is bordered by calm beaches. 
Tip: Explore the islands from the air on a jaw-dropping helicopter tour that showcases the dramatic and lush Hawaiian landscape, or be brave and grab a scooter for some fun free easy going travel.
Napa Valley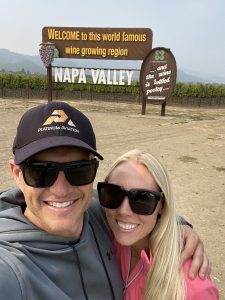 Thinking of staying a little closer to home? The Napa (and Sonoma) Valley's are a wine lover's dream and roughly two and half hours from San Francisco. Stroll the countless vineyards, indulge in gourmet fare at The French Laundry, and take in Napa's vibrant art scene. The laid-back Sonoma offers visitors a less commercialized alternative, and at almost double the size of Napa, plenty of wineries to choose from. Sonoma's Fairmont Mission Inn Resort & Spa makes for a great home base to explore the region. 
Tip: However kitschy it may feel, the Napa Valley Wine Train is a great way to make stops at the vineyards without the use of a car, and in a more elegant (and romantic) setting than a minibus. And if you don't drink, (I don't) you can still take in the relax and beautiful vineyards and enrich your palette with fine cheese and charcuterie! 
The Amalfi Coast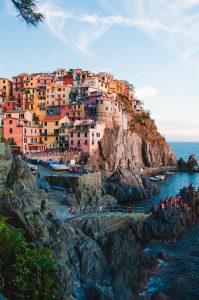 A popular destination for Italians and world travelers alike, Italy's Amalfi Coast is romance personified. Pastel-colored buildings are perched on steep cliffs over the sparkling Mediterranean ocean, the winding streets and alleys buzz with Vespas zipping past, and the smell of sugar cones for gelato and baked goods emanate from cozy, family-run establishments. 
There are myriad options for your home base, from the busy but conveniently located Sorrento (perfect for day trips to Naples and Pompeii) to the luxe Positano (famous for its dramatic scenery and sandy beach). If you're looking for the glam of Positano without the crowds, consider the more laid-back Ravello, a tiny village lacking direct beach access – but making up for it in luxurious accommodation options. 
French Polynesia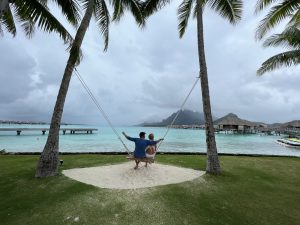 Last but never least and my personal favorite, the Frenchy Polynesia.  Gracing many a traveler's bucket list is the romantic island of Bora Bora and its surrounding atolls. Known for its towering Mt. Otemanu and luxurious overwater bungalows, Bora Bora is about as romantic as they come. 
Travelers seeking that same experience with a slightly lower price tag often opt for the island of Moorea, with a range of resorts offering both hotel rooms and overwater bungalows – all set against a stunning tropical backdrop.
There are many luxury options when it comes to accomodation so I'll just mention one I've heard of but never been, just to give you some ideas for your bucketlist.
For couples who are ready to go all out, there's The Brando – a luxurious resort located on the private Tetiaroa atoll and touted "The Most Luxurious Eco-Resort in the World" by Town & Country Magazine. The brainchild of Marlon Brando, the resort not only offers guests intimate access to French Polynesia but also acts as a center for research and education. Sustainability is weaved through everything at The Brando, from the deep seawater air-conditioning system to the coconut oil biofuel power station. However, just because this is an eco-resort does not mean that luxury has been abandoned. Guests arrive by private plane, accommodations are individual villas on their own stretch of white sand beach, and guests have access to biologists and naturalist guides for one-on-one tours and educational sessions