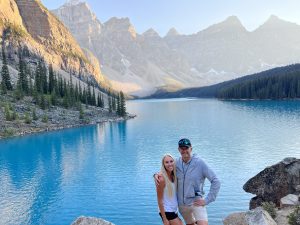 Canada's Rocky Mountains are magnificent, imposing, and the turquoise waters and towering peaks are often thought of when considering a trip to Canada. From horseback riding in Jasper to paddling the still waters of Banff's Moraine Lake, let's dive into some of the best things to see and do in Canada's Rockies!
Banff National Park
Gracing countless postcards for the Rockies is the crystal clear, aquamarine Moraine Lake, bordered by the Ten Peaks mountain range. An alpine lake fed by glacial melt, Moraine Lake is one of the most visited lakes in the Rockies for good reason. Its surface is frozen over from October to June, making a paddle on it during the summer months all the more special.  Make sure to plan ahead as its extremely difficult to get up to Moraine Lake in the summer. You'll need to get lucky that the parking guards let you up in your own car, or book a shuttle ticket well in advance. A little planning will go a long way with this gorgeous can't be missed lake.
No visit to Banff is complete without a stop in the town itself, and a stroll along quaint Banff Ave, with Cascade Mountain looming in the distance. Stroll the shops, walk over the river and indulge in some excellent food. We recommend Salt, the focaccia with honeycomb butter was to die for!
Nestled just north of Lake Moraine is Lake Louise. This small hamlet is overlooked by the famed Chateau Lake Louise, an iconic Fairmont Resorts property. To enjoy your views with a side of luxury, make a stop at the Chateau for afternoon hot chocolate or croissant depending on the season you are visiting.  Lake Louise is also home to the Victoria Glacier, countless turquoise lakes, and ample hiking trails for outdoor enthusiasts. 
Jasper National Park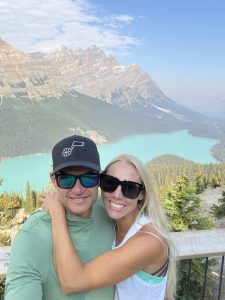 Connecting Banff and Jasper National Parks is the Columbia Icefields Parkway, a scenic drive offering access to unforgettable scenery.  Grab one of the pamphlets that show the must see stops and don't miss a one they truly are all mesmerizing!  Bow Lake, and the Weeping Wall, and the Athabasca Glacier  are some of the must-see stop along the Parkway and  the Columbia Icefield itself is one you can actually walk on.  
Once in Jasper plan some time for the perfectly aquamarine Maligne Lake. Or some hidden tips is drive a little north to Jasper lake, take your shoes off and walk out into the middle of the Lake! You wouldn't know it until you see others doing it but you can actually walk almost all the way across the lake with gorgeous mountains on the other side.
Other ideas would be to travel back in time with a chuck wagon and horseback riding adventure. Take in scenic mountain views as you travel by chuck wagon to a log cabin for some lassoing and horseshoes. After winning a few rounds, hop on your horse for a ride along the Bow River, culminating in some fine western hospitality and a BBQ cookout.