We eloped! I'm a little late in getting this post out but I wanted to share all the details of what was my own perfect wedding event. 
Growing up I was never one of those girls who envisioned her wedding. I never thought about colors, bridesmaids or flowers. I wanted to get married for sure, but just never thought of the actual wedding event, blankness whenever I tried to think about it..   Maybe subconsciously I knew I wouldn't get married till I was older, or maybe it was a seed planted in my mind by when I was younger but I just couldn't picture an actual wedding. An elopement on the other hand always just seemed more intimate and romantic.  And the idea of getting married in Tahiti resonated so deep in my soul I always secretly knew that when I got married it was going to be eloping. 
When Shaun and I started talking seriously about getting married, I googled weddings in Bora Bora and saw the most beautiful picture of a bride on a dock above bright green water and over looking the mountain and instantly felt it. "There! If I'm going to get married I want it to be right there in that exact spot"  So I found where the picture was taken, on the receiving dock at the Four Seasons in Bora Bora and told Shaun this is where we are going to do it, just me and you, here on this dock.  Luckily, Shaun didn't put up any resistance and I began to plan my secret dream elopement for 3 months later.  Somehow, as if it was meant to be, everything fell right into place (giving me total peace of mind and small confirmation).
We had three  main parts to our elopement in Bora Bora.  The Traditional Tahitian Ceremony we had on the beach, our own Private Vow Exchange on the dock in the bay and our Surprise Video Announcement to our friends and family.
I would classify myself as a pretty spiritual person and for the most part a religious person, but I also connect very deeply to nature and the earth and the romanticism that encircles it. And while there are some traditions of my religion that I want to participate in when it comes to getting married, the idea of being married by a holy man or a shaman on a tropical island that has deep and symbolic meaning totally resonated with me. 
I also wanted to exchange our own private vows and promises to each other, as I feel those personal commitments need to be well thought out and binding.  
And I also knew if I was going to get married I didn't want to tell a soul until after I did it. I wanted a true elopement where it was just me and him with no outside opinions or influences or reactions.   And the a pure surprise when it was done!
So we set a date, one I felt was fun and a good date, 11-11-22 
When we finally arrived at the Four Seasons on the island, both Shaun and I said multiple times how we didn't feel anything but calmness and peace and were just really really happy. There was absolutely no wedding jitters or pressure of any kind and no guests or family to worry about. It was just me and him for a few days in our own little Bora Bora bubble and it couldn't not of been more perfect.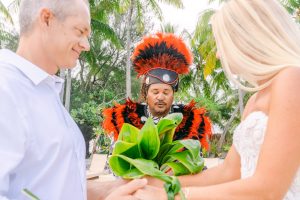 First: We did a modified traditional Tahitian wedding ceremony. Including…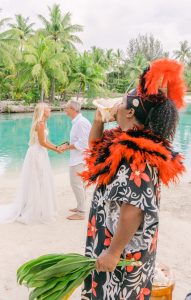 Blowing of the Conch:
Before the ceremony starts, the conch blower will sound the conch shell or Pu in all directions in an effort to summon the Gods to be present at the wedding and all the Mana (power and energy).
This long, deep call of the pu is also believed to summon the land, air, fire, and sea to be witnesses to the ceremony.
It signals that something significant is about to occur, and is usually the sign for the bride to start walking down the aisle, but since it was just the two of us we walked in together 💛
Hand Fasting Blessing:
A split leaf of "Auti" a sacred plant that is tied on the wrist of each person, this symbolizes the union between the two individuals.
From ancient times up to this day the leaves of the Auti plant have been used for spiritual protection, purification and healing. In old times, only the royalty and high priests were allowed to wear Auti leaves during their ceremonial rituals to ward off evil spirits and invoke the blessings of the gods.
The priest will divide one Auti leaf making two bracelets and he will put them around your wrists  to signify you tying  the knot. You can tie the knotted leaves to the outside of our bungalow door when you returned which means 'private', do not disturb! 💛
Moana: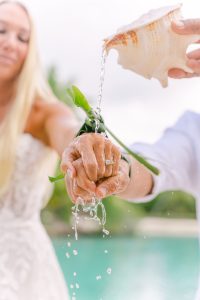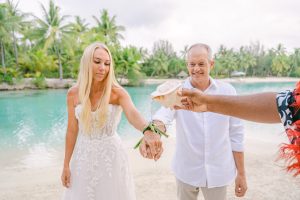 With the hands bound together in the Auti leaves, you take your partner's hand and the priest pours Moana (water) over your hands. Moana is either pure ocean water (from the greatest temple on earth). It serves as a purification of the wedding. The water washes away all of your sins, giving you a fresh new start.💛
Nature Prayer:
The priest will summon the forces of the nature to bless the union, and the mountain in the distance, Mount Otemanu, will be the main witness of your love. This prayer is not about any specific religion. It is mostly a quiet, deep and spiritual moment to pause and connect with the elements before the union.💛
Vow Exchange and Rings:
Exchanging of the vows and rings in the traditional Tahitian manner. 💛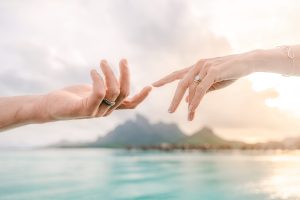 Giving Tahitian Names:
The priest will then give you a Tahitian name similar to ancestral tradition. It's believed that the priest will dream about the names the day before the wedding.💛
And then, signing the Wedding Certificate:
Your ceremony will  be official after signing the wedding certificate prepared on tapa. Made of local tree bark, the tapa is considered by Polynesians to be a symbol of wealth and was used in ancient times as a luxurious fabric.💛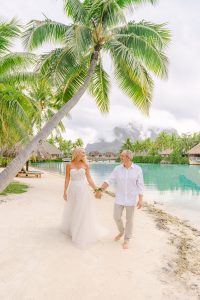 Private Vow Exchange:
After the Tahitian Ceremony, we walked to the dock overlooking the mountain and did our private vow exchange.  For me this was such an important moment. It wasn't so much about what Shaun vowed and said to me, but what I said to him. These are the words I carefully selected and didn't just promise but VOWED to do my best to keep and strive towards and aspire to. Saying these words and these personal promises is what makes me feel bound and devoted and I loved that we did our own vows. 
Plus, we got the pictures I saw that inspired the event and location. In between our vows and taking pictures there was a small burst of rain and we had to run and grab some cover, but the fresh rain added so much depth and dimension to the colors of our photos it  was absolutely perfect and even better than I thought it could be.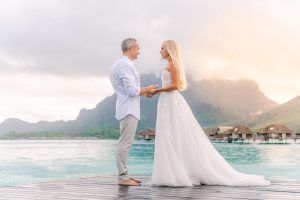 And lastly, our video announcement!  So I hired 2 photographers. Sasha Popovic was the main photographer and did an amazing job working with us and all our requests. He was a genius in judging the weather and how to get the best shots, and I love his editing style, very classy and warm.  But since I knew I wanted to create a video to send out as our announcement, I hired a second photographer Gregory at Bora Bora Photography to stand behind Sasha or to the side and just take pictures and videos on my iphone. That way I would have pictures that night I could quickly throw together with some music and we could send out to our friends and family in the morning.  
I got the exact reactions I wanted. Shock, awe, tears, people leaping for joy and pure excitement and love.  My wedding was exactly how I wanted it to be and better than I could have ever imagined. My mom said it best, "you did it your own way, barefoot on a beach in a foreign country, my heart is so touched".